Nick Dawson , 35 Yrs Experience as an accomplished carpenter - and all round Home renovator.
City and Guilds Carpentry from Ealing college London
Offering a wide range of carpentry services including , fitted kitchens, solid - semi-solid and laminate flooring, I also offer to my customer a variety of work such as Painting and decorating,
Carpentry : Flooring : Painting : Wallpapering :

All our custom beds are designed

and painted to your specification,

Made from MDF, and finished with your choice of colour.





SLIDING UNDER STAIR STORAGE


Sliding under stair Storage CLICK LINK HERE ,

CUSTOM MADE TO FIT YOUR SPACE,
YOUR CHOICE OF SHELVING, HANGING SPACE ETC.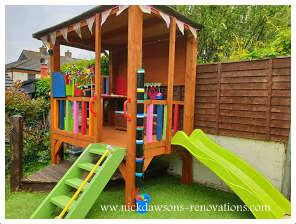 CONTACT
Nick Dawson

Based in Dublin & Roscommon

Ireland.
0876189568
or email